Dying Gaul (Sony Pictures)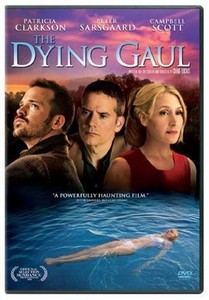 ---
| | | | |
| --- | --- | --- | --- |
| | 60% off every second DVD!!! Discounts are automatically calculated by . | | |
DVD Categories:

New Unused DVDs

Blu-Ray

Animation

Action/Comedy

Action/Adventure

Anime

Comedy

Comedy/Drama

Documentary

Drama

Exercise

Family

Fantasy

Foreign

Horror

Music

Musical

Mystery/Suspense

SciFi

Special Interest

Sports

Suspense/Thriller

Thriller

Television

War

Western

$2 and Under - Great Add-Ons

 

 

Shipping options: Due to recent increases in fees, the free shipping service will be Media Mail. Every service includes tracking.

| | |
| --- | --- |
| Service | Delivery Estimate |
| First Class Package | 2-5 Days |
| Priority Mail | 2-3 Days |
| Media Mail | 3-10 days. Rarely, during peak times it could be longer. |

*Not all services may be available for all items.

This listing may have several conditions available. The default condition and description are for the highest quality, most expensive copy I had in stock a the time of the listing. Other conditions may be selected and are described below: BRAND NEW: New Movie sealed. May have price stickers. May be new old stock. LIKE NEW: Case shows little or no wear, or worn wrapping on new DVD. Disk was visually inspected and looks perfect (Unless wrapped). Artwork is perfect. VERY GOOD: Case and artwork are in very good condition. Disk is scratch free or veryy light scratches. Case may have one or two small stickers other than the UPC. May be a previous rental that didn't stand out as such during initial inspection. GOOD: Case and artwork are complete but may have some damage. Disk is scratch free or very light scratches. There is a good chance it is a previous rental and the case and/or artwork may have one or more stickers other than the UPC from the rental company. Blu Ray DVD combos may only have the Blu Ray. ACCEPTABLE: Case and artwork can be very rough and possibly incomplete artwork. You're buying this more for the disk inside than the case and artwork. Blu Ray DVDs combos may only include the Blu Ray. ACCEPTABLE - Reprinted Cover: This is a genuine studio DVD in a full size DVD case but the artwork has been reprinted on a laser or inkjet printer, most likely from a rental store. Blu Ray DVDs combos may only include the Blu Ray. All disks are visually inspected prior to shipment and professionally resurfaced if required. If a disk appears damaged beyond repair I will issue a refund and not ship it.

Single disks are shipped in a padded mailer. Disks selling for more than $10 will be shipped in a cardboard box.

If there are any problems with your order, please follow the directions included in the package. I have a track record of fixing problems, if I am told about them. Happy customers are repeat customers, and my goal is to make you both.

 

*If you are looking for my old combined shipping deal, policies have made it very difficult to sell on the platform while offering that deal. Hopefully you remember the insert from your last order if you enjoyed the "5DollarShipping" (hint hint).